Catalog
If the builder owns the land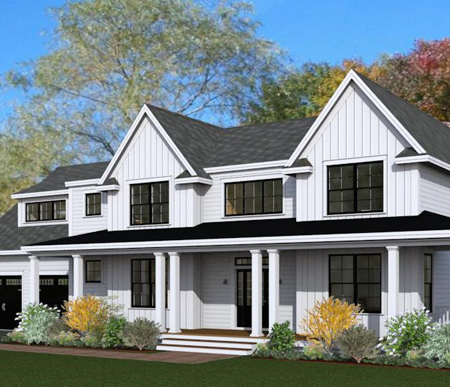 If the Builder owns the land you will build on, and you will be closing on the purchase after the house is built, it's usually a 3-4 step process:
The builder provides basic information, such as the available building footprint, height, and a general size guide. To determine that target size, discuss your needs for first floor space vs second floor space, budget, desired finish level etc.
You determine if a pre-designed ("catalog") plan works for you, either as designed or with changes. This could be a design the builder has suggested, or another from our catalog. See our Search Tips.

If you need changes, typically you, the home buyer, sign up with us and pay for your design changes. Those are done at our hourly rates.
We recommend you discuss the changes we are making for you with your builder as you go. They can provide valuable input on cost, how it will fit on the land and other factors.

Finalize the design.

If a plan works for you as designed, great, just tell your builder which one!
If you had changes made, review your final CRS (Client Review Set) with your builder.

The builder buys the construction drawings – (usually, but not always). Because our License to Build is assigned to the land, it's best if whoever owns the land (at the time of construction) buys the License to Build. There are usually construction drawing change fees when the design has been changed. Discuss those with your builder. They can often be included in your construction contract.
If you and your builder decide you will buy the Construction Drawings, be sure to discuss what happens if you can't complete the Home and Land purchase.
If you own the land
If you own the land, the process is very similar to that listed above, except that you must obtain lot and zoning information on your own and you would buy the construction drawings. We can assist with these tasks.
We strongly encourage you to have a builder on your team to advise you on price as you proceed. Without additional documentation, our drawings are not intended to be used in a true competitive bid process.
We also recommend the help of a qualified site engineer. If you have a septic design, that might suffice. If you need help gathering town zoning information, we can do that as an hourly design service.
Custom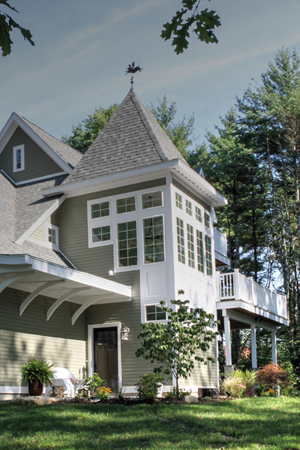 Custom design is much like the process described above. If you would need a lot of changes to one of our catalog plans, going fully custom could be the most cost effective route.  Yes, really!  At current construction costs (Dec 2021, running $250/sf and up), if we achieve a design that suits your needs as well or better in a mere 50 sf less – that just paid for the extra design cost. And every bit of it is tailored to you, your land, your family. Remember also that it's not just your construction cost that's directly tied to the size – it's your ongoing property taxes and energy costs.
As with the process above – two phases:
First is design, at our standard Hourly Rates.
The second phase is Construction Drawings – usually at a fixed price.
If you own the land already, you should buy the CDs (Construction Drawings). If you are buying Home and Land from a builder (not closing until the home is built), sometimes the builder buys the CDs. Talk to your builder.
For more elaboration on the design process, scroll up. Except for the fact that with Fully Custom we're starting from scratch, with your site plan, your land, your needs – the process is the same.
And do call or Contact Us to schedule your free consult. We are happy to discuss your options.