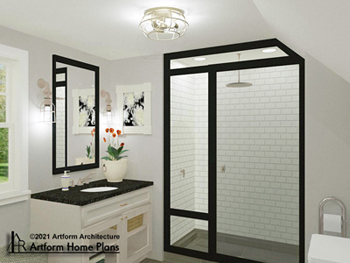 With our 3D software we can give you a very good idea what your interior will look like. This is particularly useful for assessing sight lines, relative amounts of moldings and interior mill-work, even approximating the sun shadows through the windows.
Our interior design service follows the same unique approach as our overall home design. We think that homeowners both need to be involved, and are capable of doing more than most interior design services assume. Where traditional Interior Designers do the buying and even supervise installation – this comes at a cost. In our process, you do the shopping and purchasing.
With all of it, you can get as much or as little help as you need.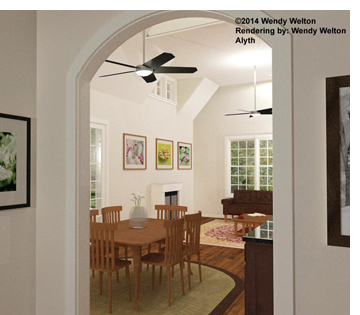 Kitchen and Bath – you select your cabinet line. We work with you to adapt the design to use those cabinets. This can include detailed functional planning (where doors, where drawers, what accessories…), incorporating aesthetic elements like decorative piers and legs, crown moldings, etc, countertop and backsplash selections, color selections, hardware selections – as much or as little help as you need.
Lighting and Electrical – you select your light fixtures (we can help, but the final decision is yours). We work with you to determine locations and switching. If you need all or some of the outlets shown – we can do that too.
Interior finishes – flooring, wall finishes, paint colors, etc.
Interior moldings and mill-work – wainscoting, decorative columns or column covers, ceiling coffers, fireplace surrounds, etc.